Wing Cargo Systems Co., Ltd, established in the 1st of February 2003, is a freight forwarding company tailored to assist and alleviate your transportation needs, specialized in the import sector.

International Freight Forwarding. Fast Service, Fair Service, Fair Rates
Upon placement of your orders, you can be rest assured that your cargo will be delivered and handled according To your requirements, our well-trained and experienced staff members will co-ordinate, arrange, monitor and keep You informed throughout every stages in the transportation of your cargo.
Wing Cargo is committed to working with our partners to improve supply chain security.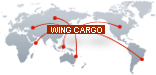 Wing Cargo Systems Co., Ltd
10F-1, No. 160, Sec. 3, Zhong Xiao E. Road., Taipei 10655, Taiwan, R.O.C
Tel:886-2-8773-8775
Fax: 886-2-2731-3300
E-mail:info@wingcargo.com.tw
www.wingcargo.com.tw